Berger Commercial Realty Closes Sale of Flagler Village Lots Slated for Development into Luxury Apartment Building Modera 555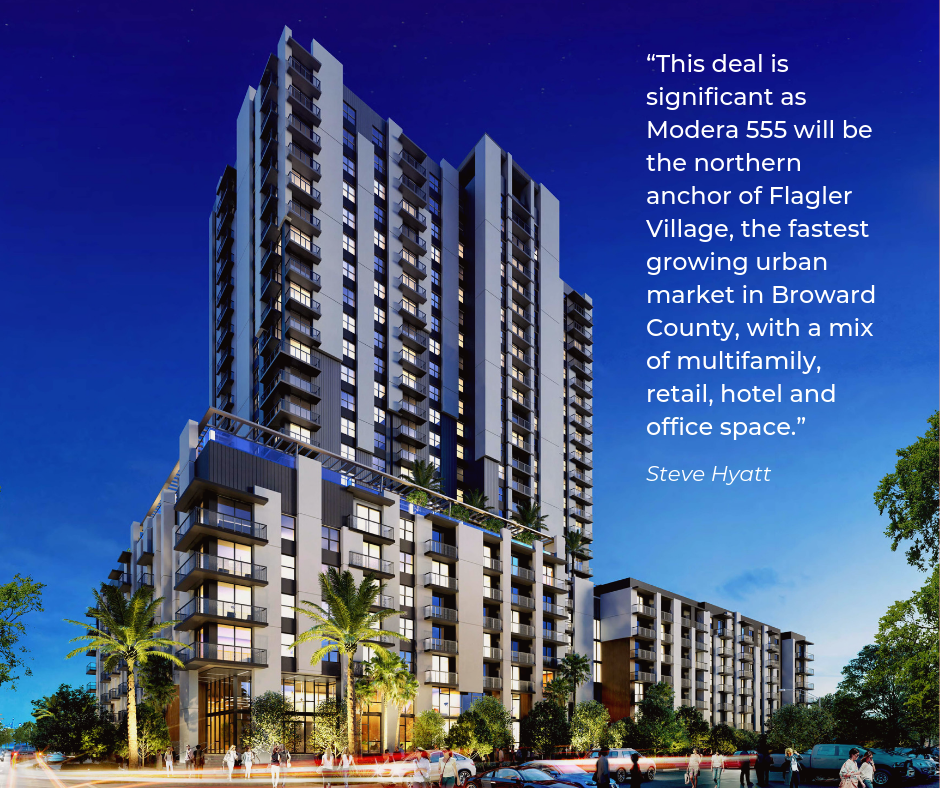 FORT LAUDERDALE, Fla. (July 30, 2019) – Berger Commercial Realty/CORFAC International Senior Vice President Steve Hyatt recently brokered the sale of three adjacent Flagler Village lots totaling 1.63 acres to Mill Creek Residential Trust Investments, LLC for a combined $7 million. The deals closed on July 26.
In the transactions, Hyatt represented:
RWL 8, LLC in the sale of 815 N.E. 5th Terrace;
Helping Abused Neglected Disadvantaged Youth (HANDY), Inc. in the sale of 501 N.E. 8th Street;
and 812 NE 5th Ave., LLC in the sale of 812 N.E. 5th Ave.
Mill Creek Residential also acquired a fourth lot located at 531 N.E. 8th Street, formerly Boyes Gas Service, in an off-market sale. The four lots comprise a contiguous two-acre parcel slated for development into Modera 555, a 24-story, 350-unit luxury apartment building.
Groundbreaking is anticipated in August. Upon completion, the address for Modera 555 will be 555 N.E. 8th Street.
"This deal is significant as Modera 555 will be the northern anchor of Flagler Village, the fastest growing urban market in Broward County, with a mix of multifamily, retail, hotel and office space," Hyatt said. "Within the Downtown Development Authority's boundaries, projects that have been built or approved include more than 19,500 new residential units, 3 million square feet of commercial space, 4.4 million square feet of office space and 1,241 hotel rooms."
Mill Creek Residential Trust Investments, LLC was represented by Christopher Staller of Nelson Mullins, Riley & Scarborough LLP in the transactions. Mill Creek Residential is a leading multifamily investor and operator specializing in premier apartment communities across the United States. The company was recently ranked as the fourth largest apartment developer and fifth largest builder in the nation by the National Multifamily Housing Council.