Berger Commercial Realty Brokers Five-Year Lease Deal with Bank OZK; 550 Building in Downtown Fort Lauderdale Provides Ideal Location and High Parking Ratio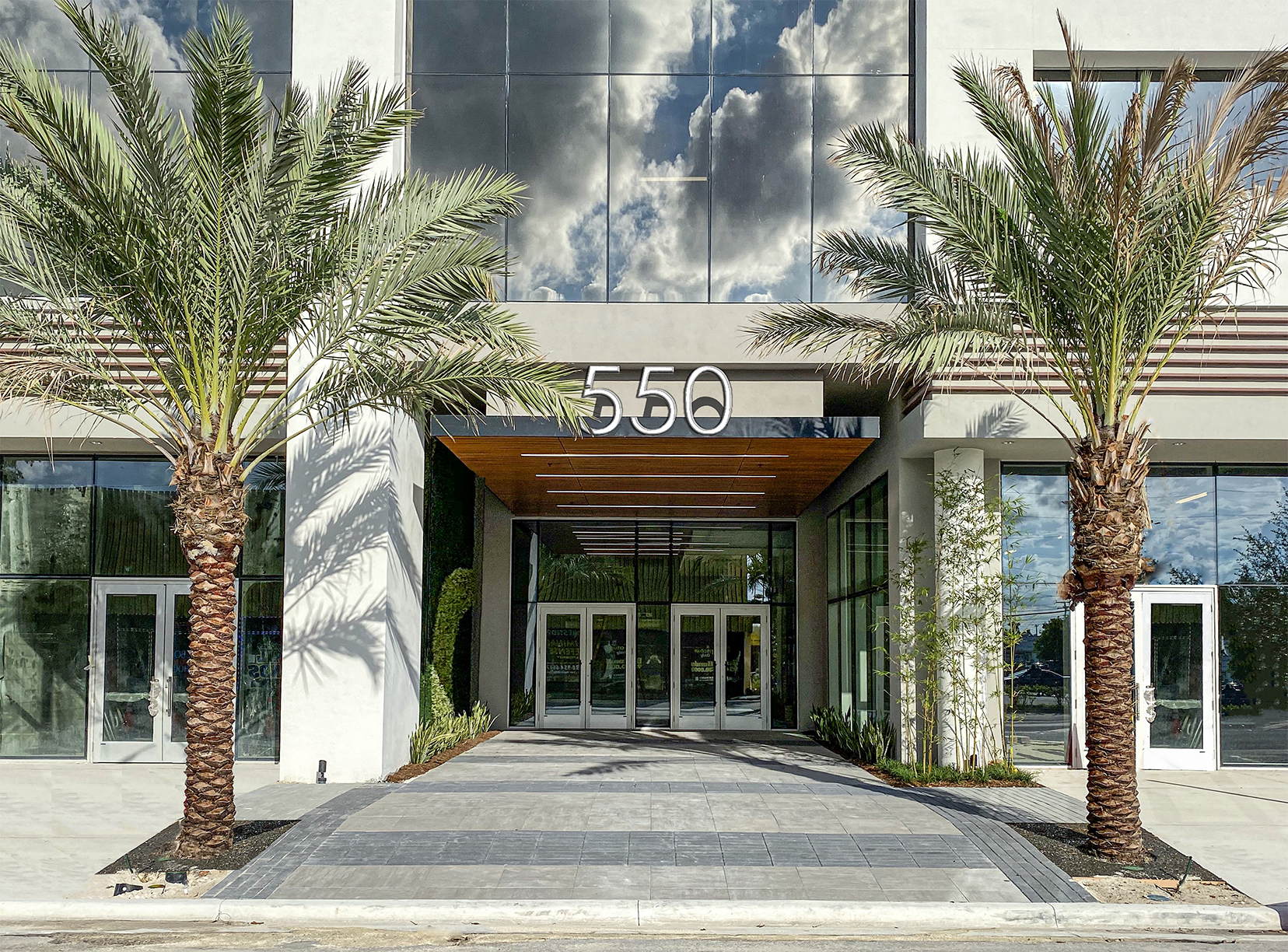 FORT LAUDERDALE, Fla. (March 12, 2020) – Bank OZK has become the latest tenant in Downtown Fort Lauderdale's new 550 Building with a five-year lease for 4,760 sq. ft. of ground floor bank space brokered by Berger Commercial Realty.
"The 550 Building location rose to the top the list for
Bank OZK as they recognized the value of this prime location in the burgeoning SOLO District of Downtown Fort Lauderdale," Berger Senior Vice President Joseph Byrnes explained.  "Its building lobby position affords Bank OZK high exposure, easy access, and the luxury of having the highest parking ratio available in Downtown Fort Lauderdale with a 634-car parking garage."
Byrnes, together with Berger Senior Sales Associate Jonathan Thiel and Sales Associate John Forman, handled the transaction for the 550 Building landlord, Blackhawk Properties & Investments.
Led by Clinton Casey and Bill Rotella, The Rotella Group represented Bank OZK.
The seven-story building at 550 S. Andrews Avenue is adjacent to the new County Courthouse and features six floors of office space, ground floor restaurant patio space, and storefront retail space.
For more information about Berger Commercial Realty's leasing services, call 954-358-0900.
About Berger Commercial Realty/CORFAC International
Berger Commercial Realty/CORFAC International is a regional, full service commercial real estate firm based in South Florida. Independent and privately owned since its founding in 1998, the firm is a member of CORFAC International, a global network of independently owned commercial real estate brokerage firms. The firm's property management and brokerage services include tenant/landlord and buyer/seller representation; project and construction management; receiverships; agency/project leasing; capital advisory/investment sales; retail services and more. For more information, visit www.bergercommercial.com.
About CORFAC International
CORFAC International (Corporate Facility Advisors) is comprised of privately held entrepreneurial firms with expertise in office, industrial and retail real estate leasing and investment sales, multifamily property acquisitions and dispositions, property management and corporate services. In association with global affiliates, CORFAC International has 60 North American offices and 20 offices in global markets. Founded in 1989, CORFAC firms completed more than 11,000 lease and sales transactions totaling approximately 500 million square feet of space valued in excess of $8.5 billion in 2015. For more information on the CORFAC network, call 224.257.4400 or visit www.corfac.com.