Berger Commercial Realty Listed Among Top Commercial Real Estate Brokerages By the South Florida Business Journal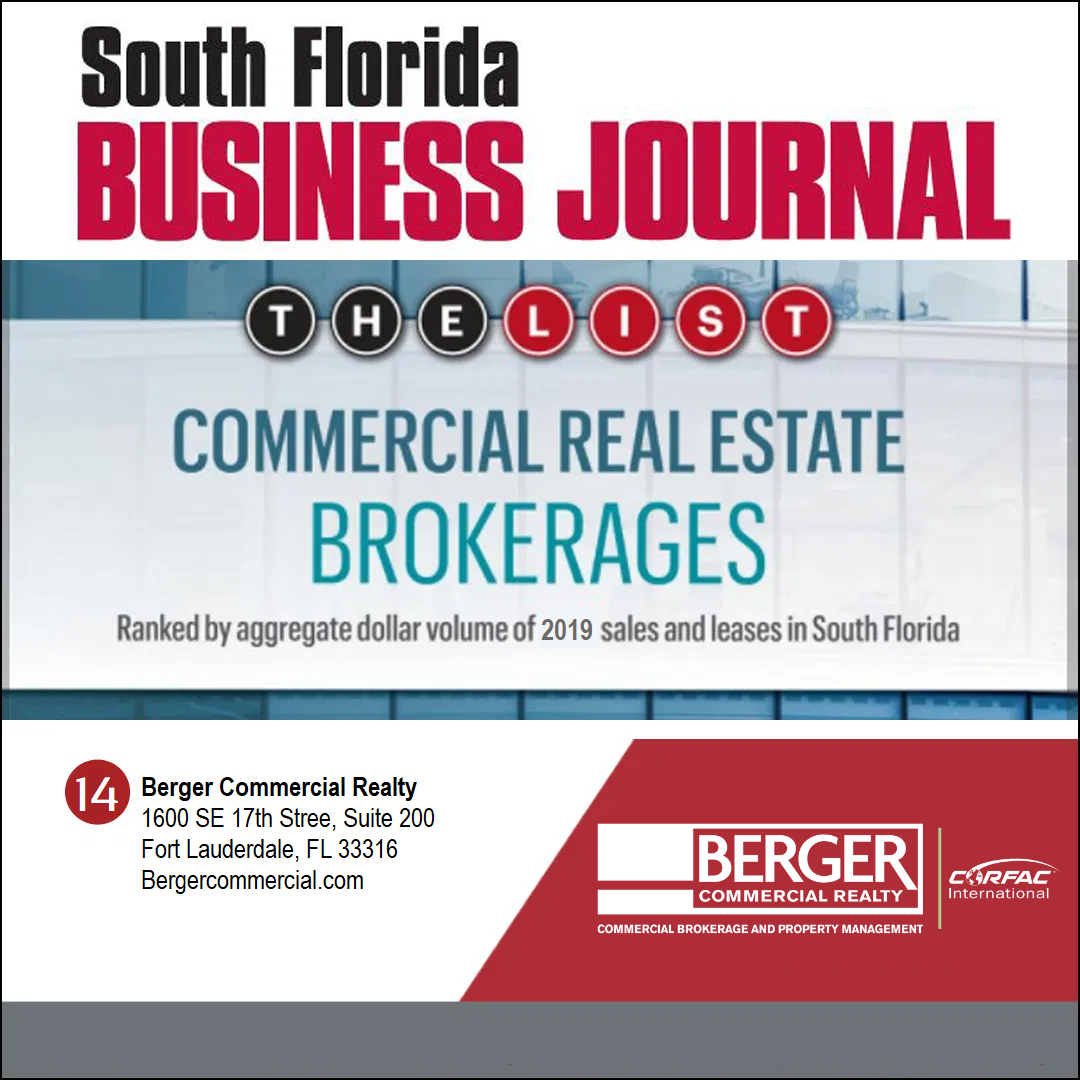 Berger Commercial Realty has once again been listed by the South Florida Business Journal as one of the Top Commercial Real Estate Brokerages in South Florida.
As one of the region's only truly independent and privately owned third party commercial real estate brokerage and management firms, Berger Commercial Realty takes great pride in making "The List."
Our firm was listed among the top 25 brokerages in the tri-county market with $204 million in completed transactions, moving up five spaces from last year's list. Additionally, our brokers sold and leased over 3 million square-feet of space in Broward, Miami-Dade and Palm Beach counties.
We sincerely thank all of our brokers whose dedication and skill undoubtedly resulted in this prestigious recognition. We look forward to continuing our success by maintaining and enhancing our track record of providing tailor-made commercial real estate solutions and superior customer service to our esteemed clients throughout South Florida.
—end—
About Berger Commercial Realty/CORFAC International: Berger Commercial Realty/CORFAC International is a regional, full service commercial real estate firm based in South Florida. Independent and privately owned since its founding in 1998, the firm is a member of CORFAC International, a global network of independently owned commercial real estate brokerage firms. The firm's property management and brokerage services include tenant/landlord and buyer/seller representation; project and construction management; receiverships; agency/project leasing; capital advisory/investment sales; retail services and more. For more information about Berger Commercial Realty's brokerage services, CALL 954.358.0900 or visit www.bergercommercial.com.
About CORFAC International: CORFAC International (Corporate Facility Advisors) is comprised of privately held entrepreneurial firms with expertise in office, industrial and retail real estate leasing and investment sales, multifamily property acquisitions and dispositions, property management and corporate services. In association with global affiliates, CORFAC International has 60 North American offices and 20 offices in global markets. Founded in 1989, CORFAC firms completed more than 11,000 lease and sales transactions totaling approximately 500 million square feet of space valued in excess of $8.5 billion in 2015. For more information on the CORFAC network, call 224.257.4400 or visit www.corfac.com.