Berger Commercial Realty Facilitates $6.9 Million Sale of Two Fort Lauderdale Parcels in Key Transportation Corridor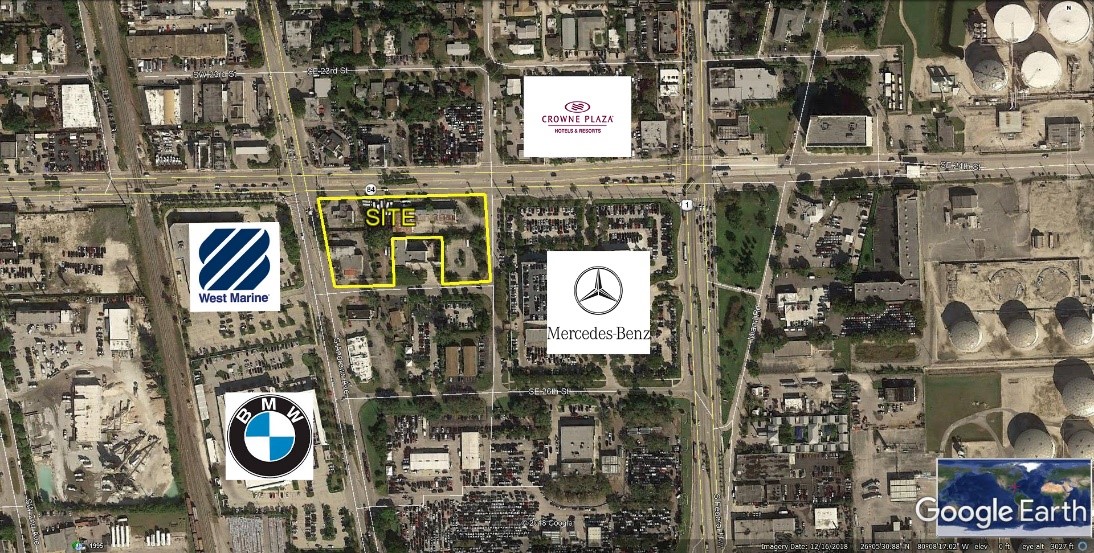 FORT LAUDERDALE, Fla. (June 5, 2019) – Berger Commercial Realty/CORFAC International Senior Vice President Steve Hyatt recently negotiated the sale of 1.87 acres of land in Fort Lauderdale for $6,947,000.
The sale encompassed two properties located at 350 State Road 84 and 2400 South Andrews Avenue, near the entrance to Port Everglades as well as the Fort Lauderdale-Hollywood International Airport.
The properties were previously occupied by Sailorman Marine Supply and a van rental agency.
Hyatt represented the sellers, RWL 1 Inc. and HLT-FTL State Road 84, LLP. The buyer, Federal 627 N, LLC, also purchased a .45-acre parcel adjacent to the two sites in a separate transaction and now owns one contiguous piece of land with plans for potential development in the future. The land at 350 State Road 84 was previously approved for the development of a 153-room, business-class hotel.
"These sites are located in the heart of Fort Lauderdale, just minutes from two of our most important transportation hubs – Port Everglades and the Fort Lauderdale airport," Hyatt said. "This corridor is ripe for potential infill and redevelopment opportunities such as transit-oriented development and other supporting uses. The new owner is a savvy investor who recognizes the long-term potential of these sites at this key intersection."
For more information about Berger Commercial Realty's brokerage services, call 954-358-0900.
"
About Berger Commercial Realty/CORFAC International: Berger Commercial Realty/CORFAC International is a regional, full service commercial real estate firm based in South Florida. Independent and privately owned since its founding in 1998, the firm is a member of CORFAC International, a global network of independently owned commercial real estate brokerage firms. The firm's property management and brokerage services include tenant/landlord and buyer/seller representation; project and construction management; receiverships; agency/project leasing; capital advisory/investment sales; retail services and more. For more information about Berger Commercial Realty's brokerage services, CALL 954.358.0900 or visit www.bergercommercial.com.
About CORFAC International: CORFAC International (Corporate Facility Advisors) is comprised of privately held entrepreneurial firms with expertise in office, industrial and retail real estate leasing and investment sales, multifamily property acquisitions and dispositions, property management and corporate services. In association with global affiliates, CORFAC International has 60 North American offices and 20 offices in global markets. Founded in 1989, CORFAC firms completed more than 11,000 lease and sales transactions totaling approximately 500 million square feet of space valued in excess of $8.5 billion in 2015. For more information on the CORFAC network, call 224.257.4400 or visit www.corfac.com.
"